Elaini Garfield, 22, has wanted to travel to India to assist in an orphanage since she was 10 years old. Her heart has been to help those who are hurting.
But then, her own hurts have halted that goal.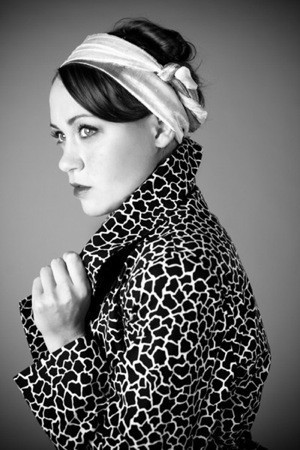 Instead of reaching her dream of traveling to India someday, Garfield has focused on getting her own health on track. After graduating at 16 from high school, she spent much of four years in bed, trying to endure a severe skin disease.
"For a while, I stayed curled up on a couch since when I moved my skin would crack and bleed," the 22-year-old said. "I struggled not to go completely crazy from the pain and sleepless nights."
The dream of India was not close to her reality. Then, one day, she realized that she could creatively revise that dream,   and do something for the orphans in India after all.
The creative way that Garfield dreamed up to help orphans was to wear a black dress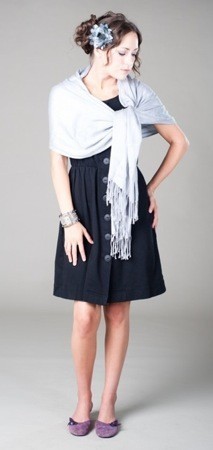 for 100 days and blog about it while soliciting donations for an orphanage that she was not able to visit in person.
One Dress. 100 days. For orphans.
It is now Day 99. During the past three months she has worn one black dress, differently each day, and  has collected donations on her website for the Illinois-based Christian nonprofit Warm Blankets Orphan Care International, which provides homes and support to orphans in several nations.
Garfield's goal was to raise $50,000. The Christian relief organization is in the process of opening 1 1 new homes and she wanted to help fund the project. By Day 97, she reached almost $ 23,000.
"The pain I lived through for four years has a purpose. I believe Jesus brought me through it so I would have compassion on others. My experience has given me a desire to help other children dream," Garfield said.
She added, "Due to my severe health issues I have never been able to go to India, but I don't want my health to stop me from the things that are important to me. Even though I cannot go to India right this moment, I can still be a blessing to the orphans there."
Garfield was inspired to do something bigger than herself as she "didn't want to waste my life. Also I recognized the need to stretch myself and do something that I was afraid to do. Another reason for doing this is because I find it easy to say one thing, such as 'I love orphans,' and then do nothing about it. I wanted to do a creative fundraiser."
She had learned of The Uniform Project, where a woman named Sheena wore a black dress for 365 day to raise education funds for underprivileged children in India. This sparked Garfield's creative juices.
"Sheena was the one who first had the brilliant idea to wear a dress for a fundraiser. More amazing than that, she did it for a year. I am grateful that she stepped out and did what she has done so that other women like myself can follow in her footsteps."
For each of the almost 100 days Garfield has worn the black, she has styled it differently, with the help of friends and designers. Shabby Apple has donated styling pieces from its store, as has Xtabay, a Portland area vintage shop. Photography on her website is by Jenn Lynn Images and Christa Taylor Photography.
She reflects on the variety of ways one can make a black dress look: "Each person that styles the dress has a different take on it. They adorn the dress as they would themselves," Garfield noted. "As I pondered this I realized that we not only dress our bodies but our hearts as well. Am I putting on love, patience and compassion? What really matters? Fashion? Fun? Sports? Friends? Family? Beliefs? What are you putting on today? May we pay as much attention to our inward raiment as we do our outward."
So how has the dress held up these 100 days?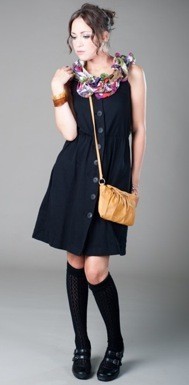 "Pretty well, it is not too worn. I hand wash it so that really helps keep it nice and I hang dry it." She does have an alternate identical back up dress just in case, but has not needed to wear it much.
As she nears the end of the 100 day project, she looks to continue to see funds come in for the orphanage in India. She has been encouraged by others who have caught onto the idea over the time frame.
"I love that my readers have planned hikes, thrown parties and two girls are even hosting a carnival to raise money," Garfield said.
And a Seventeen Magazineeditor, Ann Shoket, even tweeted about the project a couple of times, praising Garfield's "smart styling tricks."
With the last day to wear the dress Aug. 8, she is looking forward to changing her wardrobe.
"I'll probably take a few days off to rest and figure out exactly what I am doing but I will continue blogging because I want to continue to inspire people to do more with their lives. To live fully. Plus it is just good for me too," she said. "I'll still show photos of what I'm wearing at times but of course it won't be with the black dress!"
"I'm at a cross road in my life, and I'm waiting to see what the next adventure will
be."
ORIGINALLY PUBLISHED: http://www.huffingtonpost.com/cornelia-seigneur/one-black-dress-100-days-_b_919621.html